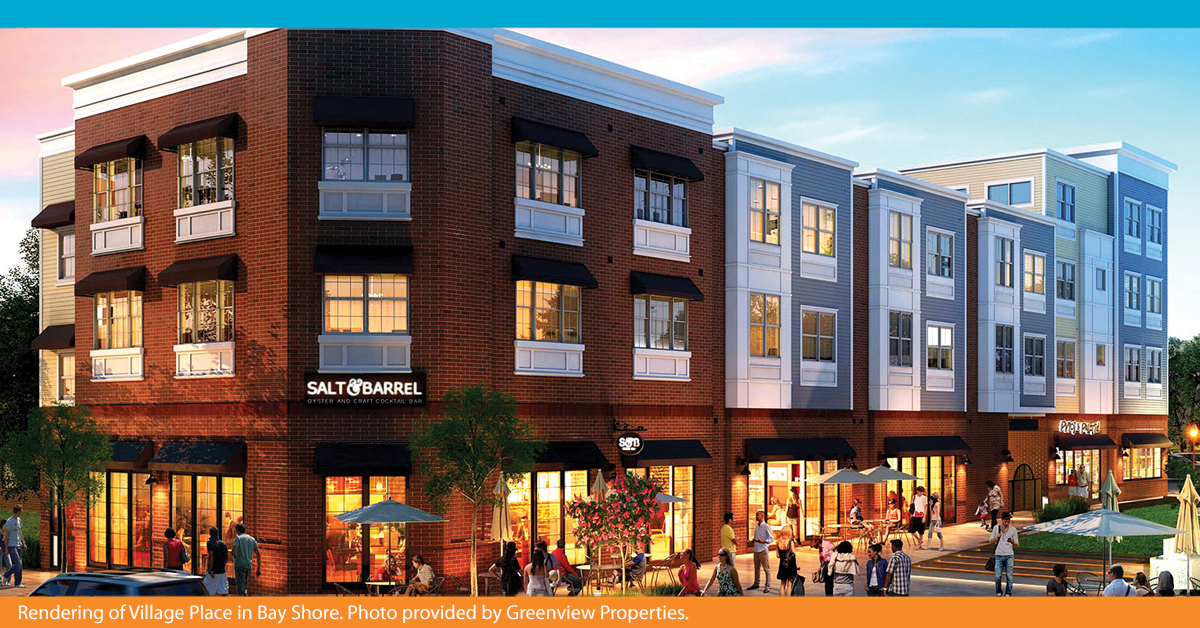 Revitalization
Focus:
CEO
Interview
with
Larry
Gargano,
President
of
Greenview
Properties
Describe your business.
Greenview Properties is a real estate property and management firm providing services to apartment communities, condominiums, and homeowners associations. Our development division focuses on redevelopment sites that are blighted or underutilized, and we target those locations and reposition them for better land use.
We retain everything we build in a portfolio under a rental management arm, and we're constantly looking for further development opportunities. We spend much of our focus in the downtown Bay Shore area because that's where we're finding many of those opportunities.
What do you find so appealing about Bay Shore?
We develop all over Nassau and Suffolk, but Bay Shore is part of our history. Throughout our existence, our offices have been in Bay Shore. We acquired our first property in Bay Shore back in 1988, so we've been around the area for many years.
We've been able to participate in the town's revitalization by being in the right place at the right time. We didn't have to "hear" about the revitalization of Bay Shore because we've always been here. Bay Shore began to reshape itself right around us. Obviously, as developers, it's a great way for us to capitalize on the opportunities that are right in our back yard.
That's why we've heavily focused on Bay Shore. But also, independent of our company, the downtown's array of positives is the catalyst for its recent success. The western Suffolk location gives it proximity to major parkways, waterways, Fire Island, major hospitals…all the pieces that make it a vibrant locale. It's not too big, not too small. It's just got everything, as far as we're concerned.
What would you consider the key actions that sparked Bay Shore's revitalization?
Two things contributed to this. The first is an intensely focused and loyal grassroots community that really fights for its town. Add to that the Planning Department of the Town of Islip and a body of elected officials that have supported proposals that align with that grassroots community.
The second reason—and this is no longer exclusive to Bay Shore—is the development and housing trend that's picked up a lot of momentum over the last 10 years, which is the shift toward living in a walkable downtown community. This shift in the rental and housing markets has put a strong focus on an urban type of development, the kind of place where you can step out of your door and be within walking distance from a variety of amenities.
There's still a market for the traditional suburban developments, but we're seeing the current housing demand in places like Bay Shore. The reason why Bay Shore has been so successful that trend is being embraced by the community and its local officials.
How has the Town of Islip IDA assisted your development needs?
The IDA has an interest in providing support for anything in the downtown area that will fulfill its revitalization mission in terms of reconditioning a low-use property (that presently results in a tax-base contribution lower than its potential) into something that will, over the long term, be very vibrant. Projects like ours check off all the necessary boxes for the IDA, and it makes it easy for them to analyze and support such a redevelopment application.
The IDA's support is critical to overcome some of the costs associated with trying to get these projects developed. Development projects can be very expensive for many reasons. It starts with the acquisition of a blighted location that might not be realistically priced because an unwilling seller would rather let the underused property sit there than sell it at a reasonable price.
As developers, we're often forced to overpay for property we're looking to revitalize. On top of that, you have increasing costs of construction as codes change, as well as "soft costs" such as design fees and fees imposed on us by related municipalities and agencies. It's an ongoing escalation of costs, to the point where it becomes difficult to make the numbers work.
The IDA will provide a level of assistance to make things happen. For them, it's temporary assistance regarding the economic influence of the project—maybe 10 or 15 or 20 years—but the long view is that the project is going to exist way beyond that, with a great return on that temporary investment.
It's their assistance—which often bridges the budget gap—that's a big help getting a project off the ground.
What's a recent project that's been assisted by the Town of Islip IDA?
We've done multiple projects in the town. We're very proud of one of our recent projects—Village Place—which is an example of the IDA helping us overcome the many challenges I mentioned before. With its very high acquisition price and construction cost, the project could not have been completed without the tremendous support of the IDA. We're pleased to say it's totally occupied, and it's been well received by both the Bay Shore community as well as the residents and commercial tenants occupying the space.
We're looking forward to two new 90-unit mixed-used properties we're developing: North District Lofts and 11 Maple. They'll both be appearing in the downtown area.
What do you predict for the future of Bay Shore?
I see Bay Shore being further developed with quality properties. The town will continue to thrive on a retail basis based on the additional residential development that's underway. As I walked through downtown one weekend, I couldn't believe the level of activity, from the restaurants with their sidewalk seating to the foot traffic.
I could look back 15 years, when we owned a couple of buildings in Bay Shore and had trouble getting anyone interested in the downtown area. We kept hearing there wasn't enough foot traffic, yet based on what I saw this past weekend, that's a completely different conversation.
And based on what our company has completed, what we're currently working on, and what we've proposed, that foot traffic is going to increase in a healthy way. It's going to reduce the need for automobiles. People are going to step out of their buildings and walk to the downtown. While the unintended consequence of a successful downtown is stress on parking options, for the residents that situation is somewhat mitigated.
This will also improve the area that includes the surrounding residential homes beyond the downtown district yet are within walking distance of the vibrant downtown—it will have a very positive effect on home values. So I see great things going forward for downtown Bay Shore!